1 Apr. 2010 Burkina Faso
Women's co-op built store becoming popular. People can exchange various kinds of information there.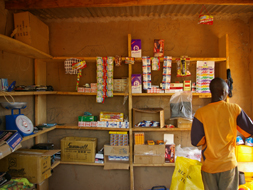 A well-stocked display
Support to a cooperative
With the help of HFW, a grain mill was set up August 2006, in Wamtenga village. Since then, a local cooperative has been earning profits by renting it out. These earnings were then added to a fund, which was used to open a shop in December 2007. Profits from one project thus funded the creation of another, an endeavor HFW had not previously pursued. Initially, they concerned over durability and constructed the building with iron plates, which are a common sight in Burkina Faso townships. However they found that heat tended to accumulate inside and making it unsuitable for storing some items. Through consultation with the members, they decided to move to a different building with earthen walls. A member of the cooperative offered a vacant building, and in April 2008, the store was reopened at new location.
After an initial selection of around five products, the store increased its offering due to customer demand. From staple foods such as rice and spaghetti, to daily necessities such as batteries and matches, a wide variety of items are presently available. Instant coffee available for 25 CFA (about ¥6) per cup is particularly popular, and many younger people have started stopping by for coffee on the way to work. As people began to gather around the store, so have other entrepreneurs, such as food vendors and a bicycle repair shop. Even a little theater has been created where movies are shown on a small, generator-powered television. In a village previously lacking any form of entertainment, a town center bustling until evening has arisen. While one reason young people move from rural area to urban area is the lack of employment opportunities, another is that here is no comparable local entertainment. For this reason, an establishment like this town center is a very important part of convincing young people to stay in the village.
While HFW will keep working to give advice to the cooperative about continuing to secure income through the shop, we are also planning to use the location as a center for awareness raising such as displaying a poster on HIV/AIDS on a store wall for example. Already, condoms HFW advised to trade at the shop are selling more than expected. The shop is expected to become the place of dispatching various information since it is the place where people gather.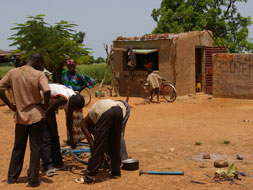 A motor cycle repairman has opened business near the store
Message from Burkina Faso
Mr. Nana Marcel (shop staff)