1 Dec. 2008 Burkina Faso
In the areas where more than 1,500 children are malnutrition, one out of 10 receives a chance for improving nutrition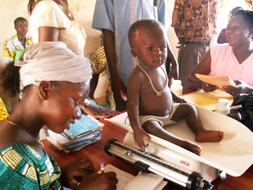 The result of the diagnosis is recorded in the maternal and child health handbook to see the progress
Nurtrition rehabilitation and education for infants, lactating and pregnant mothers (CREN)
The Corporation for Research and Educational Networking (CREN) is a project for improving nutrition of infants and pregnant women, which was launched in October of 2005. It has made a tangible accomplishment in the last two years. CREN was originally founded in cooperation with the national health center in Koubri county 25km off the capital city of Ouagadougou. It was originally a national government's project designed to improve nutritional status of the children. However CREN in this region was forced to closure due to financial difficulties, and the inpatients' ward for infants built in the health center had been left idle.
"I have seen children die almost every year since the closure of CREN." Upon hearing these voices from the local mothers and doctors of the health center, HFW resumed CREN using the existing building and equipment and reemploying the former staff.
It is known that one out of three children under five years old are malnourished in Burkina Faso, and the health center provides health care for approximately 4,500 children under age of five in 11 villages. This statistics estimates around 1,500 children are regularly undernourished in the area. The core objective of this project is to improve nutrition for the children and help them build healthy body resistant to diseases and to educate the mothers to have correct knowledge about hygiene and health care as they are the key to the healthy development of the children.
The routine checkups are conducted on every Wednesday. Children are examined for their development and see if their weight is appropriate for their age. Before the checkup, the CREN staff give mothers various instructions regarding health care, such as how to prevent HIV/AIDS, and the importance of vaccinations. After the checkup, nutritious porridge is provided for the children. Ingredient of the porridge such as millet is easily accessible even for farmers, so mothers are taught how to make it and are encouraged to give it to children at home.
The inpatients' ward for infants was renovated in February 2007, and now it can accept children in critical condition due to malnutrition for emergency treatment. Also in August, HFW Benin purchased a motorcycle so that a staff can go to the assigned 11 villages and introduce CREN activities. The number of children who have come to the checkup so far is 153 (as of August 2007) and 57 children have better nutrition status in the last two years. Local residents hope for further expansion of the project.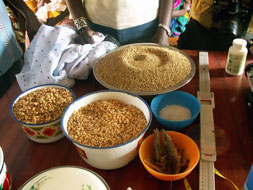 CREN staff visit each village and check babies and young children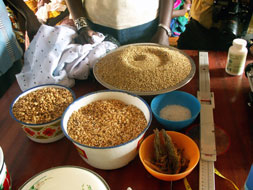 Teaching mothers how to cook nutritious porridge
Message from Burkina Faso
Ouedraogo (26 years old) and her son Belem (16 months old)