1 Oct. 2005 Burkina Faso
Project improving nutrition started at health center so that it will get positive effect on the long-term health.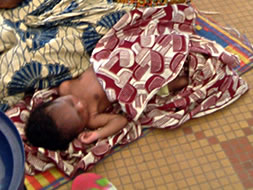 A baby born at the health center
Nurtrition rehabilitation and education for infants, lactating and pregnant mothers (CREN)
A project to improve nutrition was started at the public health center in Koubri, Kadiogo province, Burkina Faso.
In Burkina Faso one in five children dies before age five. While lack of medical care is also a factor, other major causes of child mortality are lack of nutritious food and poor health of pregnant mothers. In Koubri, many children suffer from malnutrition. At the public health center, the only medical facility serving the 22,804 residents living in the area around Koubri, many patients come from more than 15km away to receive treatment. YEH has been providing medical supplies and giving other kinds of support to this center.
In September of last year HFW revived an infant and maternal nutrition program that had been discontinued due to funding problems. In order to ensure proper nutrition for the 200 children per month born at the clinic, the program teaches mothers how to make nutrient-rich gruel using grain, smoked fish, beans and other locally available foodstuffs.
Another program, to be run mainly by YEH, is also being planned to provide education to women. The program will spread knowledge about topics like family planning, breast-feeding, and HIV/AIDS. The goal is not only to provide nutrition and medical support but also to increase mothers' knowledge and awareness of nutrition and health which in turn will have a positive effect on the long-term health of her family.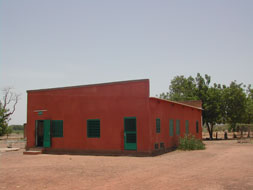 The health center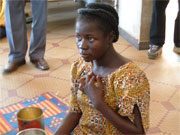 A baby's mother