20 Oct. 2017 Japan
HFW participated in "World Food Day" Month in 2017 Kickoff Symposium as a speaker.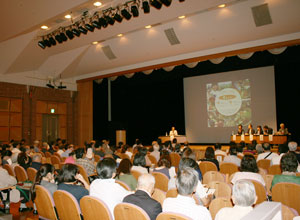 In the panel discussion, NGO's, private companies, the administration discussed how to cooperate in the future in concrete.
Informed the situations of our working countries to stimulate those who are interested in food issues to take actions for solving the problem.
On October 1, "World Food Day" Month 2017, in which HFW committed as an administrative office, and Resources and Waste Recycling Bureau of the City of Yokohama co-organized  "World Food Day" Month 2017 Kickoff Symposium in Yokohama, "Let's Think! 'Eating' 'Wasting' -What can we do now? –". 270 people including working people and students etc. gathered at the venue, Yokohama Hamagin Hall VIA MARE.
Mr. Charles Bolico, the representative of the Food and Agriculture Organization of the United Nations (FAO), Liaison Office in Japan, explained the world's food situation, the cause of the threat to food security, and the influence of food loss. Next, a staff member of HFW, Ms. Sato, in charge of overseas projects, presented cases of HFW. She reported that one out of three children under five years old are malnourished in HFW activity areas and pointed out the current situation requires continuous efforts to solve hunger. She also introduced HFW's support as an NGO to people in poverty, women and children by utilizing local materials, human resources and knowledge as well as its activities to guide them to build up a better system by bridging the administration and the residents.
Then, Mr. Yuji Shibata, Pantry Coordinator of Second Harvest Japan showed that 2 million people are having difficulties to get stable food supply even in Japan. His organization is playing the role of linking surplus food and people in need. Ms. Yuki Morita, Director of WE21 Japan followed to talk that they are aiding about 30 countries through WE Shops. Next, Mr. Teruyuki Fujinori, Recycle Officer of Seven & i Holdings' Group General Affairs Department introduced how they contrive to develop and sell goods to decrease food loss and to create regenerative society. Finally, Mr. Fujio Onaka, Director-General of Resources and Waste Recycling Bureau of the City of Yokohama, introduced the various efforts that city is undertaking to reduce food loss such as food education at nursery schools.In the panel discussion, some cases were introduced by the panelists from NGOs working on food problems, private companies, the administration in the terms of their own standpoint, and actively exchanged their views, while answering to questions from the audience as well.
This event was held on October 1 to increase the number of people to act during "World Food Day" Month that falls on the same month. In the interact after the symposium, there were university students who wanted to hold a workshop in an event during "World Food Day" Month, and high school students who asked us to deliver a lecture in their school. Later, we sent teaching materials to the university students and the plan is in progress. This symposium turned out to be a good opportunity to involve more people to act for solving the problems of hunger.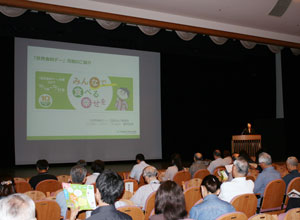 A HFW staff, Ms. Mamada introduced "World Food Day" Month 2017 and called for actions towards solving food problems.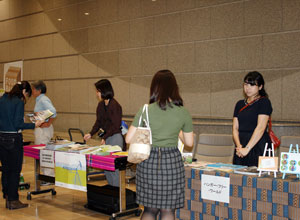 A corner was set up in the hall to exhibit materials about the participating groups and many people took them in hands.
Comments from the participants
I am very happy that there are such as many people who have interesting in food problems. I would like to share what I have learned today with my family and friends, and start with working on whatever small things I can do.
It was interesting to hear from varieties of people such as NGO's, private companies, the administration etc. from their own view points. It was particularly a good opportunity to hear introduction of cases and difficulties in the activities of private companies because we don't have many chance to learn about this issue.