28 Jan. 2019 Japan
A nutritionist introduced Hunger Free World workshop for elementary school students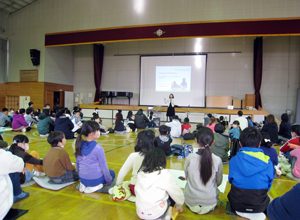 HFW national activity stuff, Mamada, gave a talk to 130 participants of elementary school students and their parents
as a starting point to learn about hunger issues by using message cards.
On 12 January 2019, Hunger Free World held a workshop for elementary school students at Annaka municipal Matsuida elementary school in Gunma to learn about food problems by applying message cards as a learning tool. This workshop was entitled as "thank you for Itadakimasu and Gochisousama" –in Japan, people say these words every time before and after eating to express the gratitude of being able to have good food –so that students can relate their daily-life experience with global food issues. This workshop was realized thanks to the proposal by the school nutritionist, who worked as a presenter last year at the special event, it is called, "The talk night: Nutrition and international cooperation", during World Food Day. Sixty three students and their parents participated in this workshop as a part of Parent-Teacher Association (PTA) events. During this workshop, they made groups composed of the first to the sixth grade students.
In the first session, they shared about the topic, "What is the most memorial meal in your life?", written in the message cards in advance. Various memories were shared, from daily meal with their family to special meal during their traveling. They looked very serious when they were watching videos about people outside of Japan, such as Bangladesh and Burkina Faso, talking about their most memorial meal in their life. Their comments on post-it strips –even from younger students in hiragana (the basic Japanese script) with help of the members of PTA –became a big number more than they could post on a big poster paper. Students divided these many post-it strips into several kinds of groups, added another comments, memos and figures, and presented what they discussed one by one. Some of the important notice by students during this session were "eating makes people happy", "we need to appreciate eating food made by someone by his/her/their heart", "we cannot eat enough food if we don't have money", and "we cannot live healthy without eating". After all sessions, students enjoyed keema curry with lots of vegetables cooked by the members of PTA especially for this day. At the end, they shared their feelings for the experience from this workshop on the reflection sheets as follows; "I learned that some people cannot get enough food though there should be enough food in the world"; "We all want to eat well –even people who cannot eat enough amount"; "I realized that eating is very important by learning what producers and people living overseas are feeling". Some students mentioned that they started to think what they can do as a solution to this issue, for example, "I hope I can do something for people in hunger", and "I might donate postcards so that I can help create the world where everyone can eat well".
This workshop was a good example of a school nutritionist who has an experience working as a volunteer of Japan International Cooperation Agency (JICA), transferring his experience into practice in his local community by making a good opportunity for many children and parents to learn about hunger and all related food issues.
*Annaka municipal Matsuida elementary school have also supported our campaign on collecting old, unused, miswritten postcards. We exchange these old cards at the post office with new post stamp sheets, which is further exchanged with money and used in our activities as part of the budget.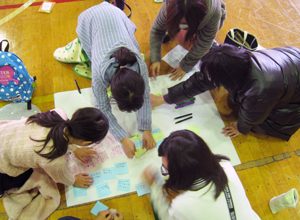 Students wrote down comments on post-it strips and post on the big poster paper with their parents' help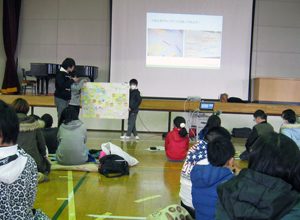 Group presentation led by older students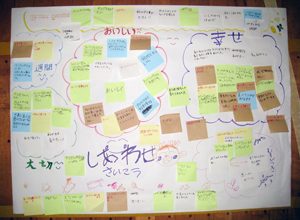 A poster-full of happiness of eating and human bound through eating