12 Mar. 2020 Japan
At the TICAD Side Event, overseas members presented their local activities to the Japanese people.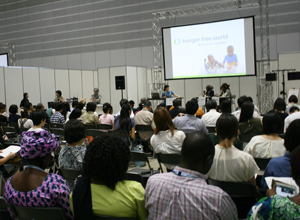 Although the event took place during a weekday afternoon, about 70 people including students and working people attended.
On August 27, the TICAD Side Event "Collaboration between the government and NGO for providing rights to children and young people in West Africa" co-sponsored with the Child Labor Network (CL-net) was held. The purpose of this event was for YEH members to gain experience and skills in expressing their views in an international conference. Local young members can directly express their view to urge people engaging in international cooperation to change the mechanism that produces hunger. At the same time, the event provided an opportunity for participants to think deeply about hunger and take action to help resolve it.
In the first part, Ms. Darlene Esther Bisseton Gbaguidi of Youth Ending Hunger (YEH)
in Benin and Mr. Kayaba Madina G. Antonine Segueda of Youth Ending Hunger (YEH) in Burkina Faso appeared on stage. Ms. Mera of HFW who moderated the event introduced the activities of the two YEH local members who are working to solve local food issues. (Details of the presentation are mentioned below)
In the second part, CL-net lead the session moderated by Mr. Kondo of ACE. After introducing activities in Ghana showing a video, Mr. Nana Antiw Boasiako Brempong, the Executive Secretary of CRADA, and Mr. Nana Kwabena Akwa II, Leader of Tano Circuit, Atwima Nponua District, Ashanti Region, appeared on stage. They commented that strengthening the management capability of cocoa plantation and establishing a school to support children's education helped abolish child labor.
Finally, Mr. David Phiri of Food and Agriculture Organization (FAO) commented, "The mission of FAO is solving the hunger problems. I was deeply impressed by the efforts made by the young members of HFW.
FAO also views child labor as a problem and is working to completely eradicate child labor in agriculture. We can expect ripple effects of children's education on the parents. This is significant".
The two YEH presenters also spoke at the side event which took place afterwards and encouraged people to execute, rather than only promising various support through words. This was a good opportunity for voices of the young people to be heard by the international cooperation officials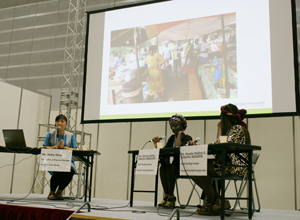 Darlene (middle) and Madina (right) presenting the local situation by answering questions of Ms Mera of HFW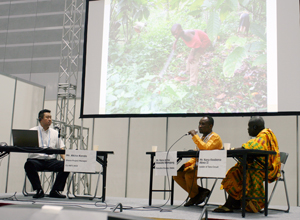 From CL-net, Mr. Kondo of ACE and Mr. Nana Antiw Boasiako Brempong (both on left), and Mr. Nana Kwabena Akwa II (right), field leader, presented Ghana's activities.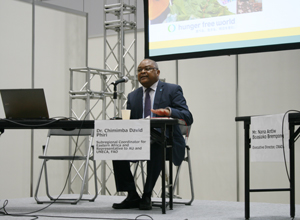 David Pirie of FAO commented "Approximately 20 % of the population in Africa is suffering from hunger".
Summary of the YEH speech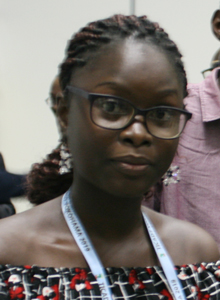 In Benin, due to increasing number of highly priced products such as pineapple and cotton being produced, people are unable to secure their own food which are millet, soybeans and corn as they are no longer being produced  Due to this situation, we are working to raise awareness of young people to grow nourishing produce which were already locally available. We are also playing a role model for the young people by growing produce by ourselves and selling processed goods with added value. By doing so, we are sending a message "farming is cool" and urging more young people to get involved in farming to grow food.
Darlene Esther Bisseton Gbaguidi(representative of YEH Benin)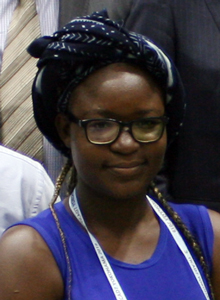 In Burkina Faso, many adults also eat whatever is available without knowing what a nutritious meal is.  We will communicate the importance of nutrition through theater, dance and radio. In theater, we have invited comedians so many people can have fun learning.   Also, as the constitution of Burkina Faso is expected to be amended, we are working to influence key people to add "rights to food" in the constitution and distributing leaflets to many people to convey the importance of "rights to food".
Kayaba Madina G. Antonine Segueda (Representative of YEH Burkina Faxo)