12 Mar. 2020 Japan
"WORLD FOOD NIGHT 2019": an opportunity to find hints for actions leading to the end of hunger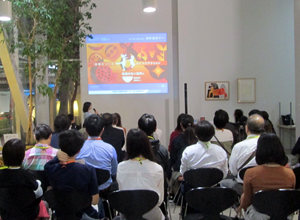 As many as 41 people participated despite of bad weather caused by typhoon
The "World Food Day" Month 2019, where HFW acted as the administrative office, organized a networking event "WORLD FOOD NIGHT" in the evening of October 11th. The event aimed for bringing together and building a network among the people who are concerned about global food issues or making actions to solve them.
We welcomed 6 practitioners to make presentations in the event which marked the 5th anniversary this time. Ms. Sachiko Matsuoka from the UN Food and Agriculture Organization (FAO) Liaison Office in Japan revealed the current status of global food issues in terms of Sustainable Development Goals (SDGs) and what each person can do. Mr. Makoto Suzuki, the head of Japan Fisheries Certification Support, described what is happening around the fishing industry today and introduced the MSC fisheries certificate (the "MSC ecolabel" certified by Marine Stewardship Council) as an effort to spread sustainable fishing. Mr. Jiro Yatogi of a noodle restaurant Menya Musashi Inc told us about their engagement to offer "Ara-men" using soup made with fish waste (called "ara" in Japanese).
Following the free interaction time, Ms. Terumi Onuma from Save the Children Japan talked about the importance of "nutrition" and their expectations towards Tokyo Nutrition for Growth Summit 2020. Ms. Chika Sakairi of tabekifu introduced their mobile application designed to transform food loss into donation. University student Ms. Haruka Kishimoto explained what made her concern about the food issues, as well as her current "Stop! Eho-loss campaign" to raise voice against mass disposal of ehomaki sushi roll that many Japanese buy and eat on setsubun day (and then the unsold ones are thrown away from grocery stores).
During the interaction time, the participants exchanged information to solve food issues while posing questions to presenters or introducing their own activities each other. Menya Musashi specially offered their Ara-men and everyone enjoyed it until the last drop of soup. This boosted the conversation and interaction.
Thanks to the varied backgrounds and experience of the presenters from international organization, NGO, business or university, we got feedbacks like "I could think about the food issues from various aspects. This broadened my vision" or "I spent such an interesting time with presentations from the people working on food issues in many different ways." We also heard "I would like to begin changing my own behavior in daily life", which proves that this event encouraged the participants to make actions towards the resolution of food issues.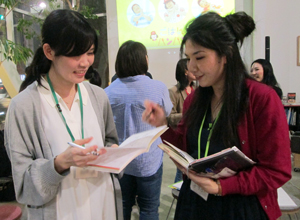 We saw many active discussions among participants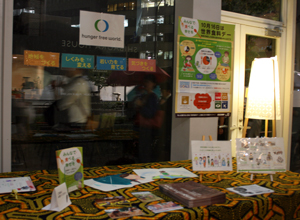 Information section filled with materials provided by participating organizations including HFW