22 Nov. 2018 Benin
43% of children under 3 improved malnutrition in 1 year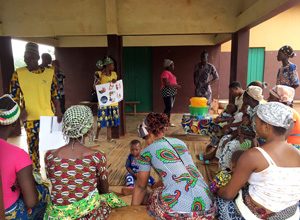 We used illustrations for residents to easily understand our explanation
A nutritional improvement program started in April 2017, applying to 156 children under 3 years of age and their families. It has helped 67 people, equivalent to 43% of all, to recover from malnutrition by August 2018.(※)
The program covers children who were diagnosed malnutrition in preliminary survey. We implement nutritional improvement workshops three times a week. In these workshops, we provide the children with high-nutrition porridge, and their mothers learned the importance of nutrition, wholesome menus made of ingredients which are easy to access locally, and recipes that children can easily digest and absorb nutrition, so that they can prepare healthy meals at home. We also gave lessons to mothers and fathers learning how to grow nourishing vegetables by themselves. And we encourage them to attend literacy classes where they can learn how to read, write, and calculate, so that they can appropriate budgets for food by managing proper household economy. We will continue to carry out this program for the same children and their families till 2020, aiming at the recovery of all of them.
In Benin, a national program for nutrition improvement has been initiated. A network including organizations and NGOs, related to nutrition, was established in the commune office of Zé which is controls areas of our operation. HFW was invited to this network, and periodically participates in meetings. We are sharing our achievements of this nutrition improvement program with this network. We are aiming that the local government will assume services of nutrition improvement for children , and make a system that even local people can support those kind of nutrition service.
※99 children, 63% of all, had recovered by the end of 2018.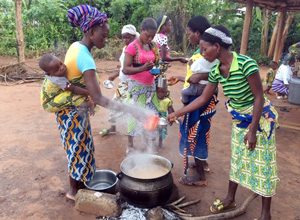 High-nutrition porridge is being prepared by mothers of children who recovered by HFW's nutrition improvement program. These mothers take part in the activity on a voluntary basis and give advice to other mothers who will newly engage in the program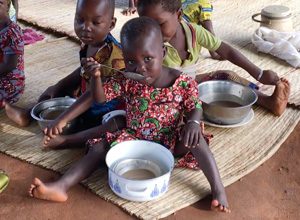 The porridge are made from finely ground corns, peanuts, and peas