11 Mar. 2020 Benin
The residents requested for the Zè County Office to establish a land control organization and it was realized.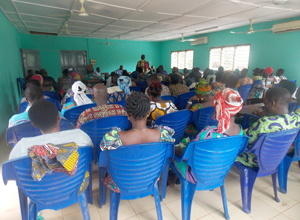 Seventy-eight members visited the hall to inform the Zè County mayor that it is a desire of many residents.
On December 20, 2018, 78 people gathered in the town hall of Zè County Office that has jurisdiction over HFW activity region to make a request to the Mayor of the Municipality of Zè . These people were village chiefs, chairpersons of 4 cooperatives, farmers, members of HFW's youth organization, YEH etc. The request was made to observe the land law that was revised in August of 2017. It stipulates that the Mayor should order to establish the Land Control Committee (CoGeF) in each region and its substructure organization in each village, the Rural Assets Control Section (SVGF), which had not been fulfilled yet.
Originally, these two organizations were supposed to be established to rationalize and fairly control the land transactions in Benin. It is clearly described in the land law that it consists of the chairperson of the city council, district chiefs elected among city council members, delegates from both farmers' organizations and women's groups, representatives of farmers as well as experts in the community. Land transactions cannot be carried out unless these organizations function. So far, there were people who could not get land to grow crops even if they wanted, or those who had been involved in unfair transactions and lost their own land. Some women lost their footholds because they did not know that they were entitled to inherit land. Therefore, HFW organized an advocacy committee so that residents concerned can directly send their voice to the Mayor of Zè County Office. They selected 78 members from people who had been working hard for the development of the region, who had strong influence on the community, and supporters of HFW activities. Members were also selected from other NGOs that had know-how in advocacy or would be able to develop the same type of activities in other regions. They held meetings to study the land law to prepare for presenting the request.
On the day, the 78 members all went to the Zè County Office town hall. Three representatives informed of the importance of CoGeF and SVGF to the Governor and requested to establish them. The Governor answered "I understand your request very well. CoGeF and SVGF will be established. There will be an election in all the villages of Zè County by the end of January 2019 to choose the SVGF members and its operation will be started by early March. Then we will start issuing land documents. Until then, please give us a little more time." He appreciated that they had reminded him of what he should do as the Governor. He also praised the residents that they had fully understood the land law in this way even though some of them were not able to read and write. In accordance with this promise, CoGeF and SVGF were established on March 7, 2019. It is expected that not only in HFW activity regions but in the Zè County as a whole, the efficiency of land transactions will be improved and there will be neither farmers nor women who would unfairly lose land.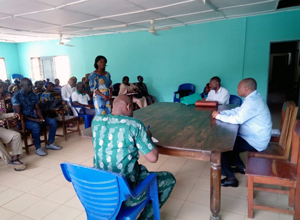 Three representatives made the request to the Mayor
Messages from Benin
By requesting to the mayor of Zè County Office, I was able to sweep away my bashfulness about making statements in front of the audience. As a result, I am mentally prepared to send our voice to policymakers. This experience turned out to be a very good opportunity for us to learn to solve our problems by ourselves even after HFW pull out of here in the future. Further, the simulation session carried out before the request to the mayor of Zè County Office was very effective to strengthen the advocacy committee members' abilities. Thanks to participating in this activity, my understanding of problems of access to the land was deepened. I am also very happy to learn from advocacy activities that we can find ways to be happy by meeting policymakers to send our message.
ALLADAGBE Edith (A director of a kindergarten and a member of the advocacy committee)
It is very delightful that I could take part in such an activity because access to farmland is necessary to improve people's nutrition conditions and for them to realize their "Right to Food". I am thankful to HFW for leading this activity. I am very impressed that people send their own message directly to the mayor of Zè County Office. To be frank, I never thought it could be this successful. I am confident that this activity turned out to be a very good rehearsal for the residents to develop the advocacy activities by themselves from now on. I expect HFW will continue to support our advocacy activities in Zè County.
DJIVO Sabine (An NGO staff and a member of the advocacy committee)