11 Mar. 2020 Burkina Faso
CREN transferred to the government; approaching the goal of self-reliance.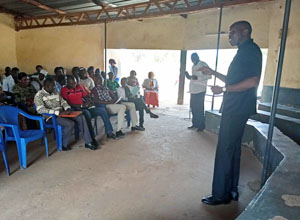 Speech by the county governor
HFW, under its medium-term goal for community development for 2016-2020, aims to improve the quality and quantity as well as nutritional status of meals that residents ingest, and to make these efforts to show results where the community residents will play a leadership role in carrying on the initiatives. HFW concluded its support as of the end of December 2018, judging that nutrition rehabilitation and education for infants, lactating and pregnant mothers (CREN) that HFW has implemented at a public health center since 2005 has nearly reached the goal. 
 Under this project, HFW provided under-five malnourished children and their mothers with high-nutrition porridge three times a week. It periodically measured the body weight and height of the children and had hospitalized highly malnourished children for intensive care. It also taught the mothers recipes and menus for a nutritionally balanced diet so that they can cook at home. For the thirteen years, HFW has supported 2219 children in 13 villages under which are under the jurisdiction of the health center, and 1619 out of them recovered from malnutrition. 
 Originally, the health center should provide, as administrative services, severely malnourished children with medical treatment as well as mothers shortly after their childbirth and infants with health care, while HFW took the tasks instead. HFW continued the project, which strengthened the system to serve the function at the health center. Malnourished children almost disappeared just in 4 villages where HFW conducted the activities. Based on these two factors, the project has been entrusted to the government since FY2019. 
 Hereafter, HFW will act as a mediator between community residents and the government by conducting childbirth education classes for pregnant women and introducing a maternal and child health center to those requiring medical treatment. Also, in other projects, HFW will not just continue support eternally but will finish support once residents acquire skills for proper operation on their own, and the mechanism is set up, to develop independent communities without relying on help.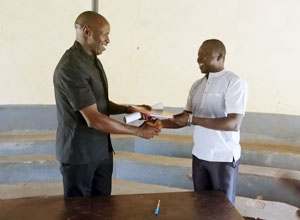 The county governor and the HFW staff sign the project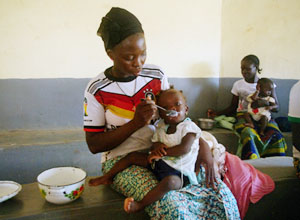 Many children ate high-nutrition porridge and recovered
Message from Burkina Faso

This project improved the health condition of community residents. Many women learned malnutrition and could gain knowledge not to become malnourished. I participated in this project and acquired knowledge about nutrition for children and highly nourishing porridge made with local ingredients. I want to open a pediatrics clinic. I think my career developed through this nutrition rehabilitation and education for infants, lactating, and pregnant mothers should be helpful for my future. I am grateful for every support that has been rendered by Japan for children's health. 
BARY Issaka(a nurse, chief of family planning )

In retrospect, all staff at CREN worked with a strong sense of responsibility and dedication. Compared to before, counseling for children's sickness decreased. Mothers, whose children are not malnourished, usually learned nutritious porridge at my place. I make nutrition-enhanced flour for sale to them. I will keep selling at pharmacies and markets and for children playing a part to eliminate malnutrition by communicating the importance of nutrition through meals for children. 
ILBOUDO Mariam(staff in charge of porridge cooking )