16 Oct. 2010 Japan
Knowing Africa by food – Kagurazaka Charity Night! Many students participated in the event.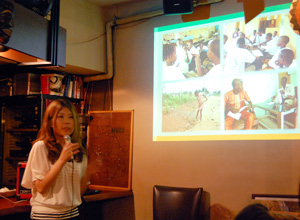 Ms. Ugajin who represented YEH Japan and visited Benin talks her experiences to the audience.
Afro-French restaurant Tribes organized monthly event Charity Night on September 14. The restaurant donates ¥20 per ¥500-dish sold during the event.
The theme of the day was "Africa through the eyes of university students." UGAJIN Aoi and YOSHIMURA Jo who are members of Youth Ending Hunger (YEH), HFW's youth organization were invited as guests. Yoshimura told the participants, "What I was moved most was YEH Uganda members' trying to create job opportunities by learning hair cut at hair salon of an acquaintance not just implementing project funded by YEH Japan," and Ugajin talked about her experience in Benin.
Many students participated in the event and listened attentively to the talk of these two YEH members. Donation of ¥2,440 from the event will be used for works of HFW and Green Sahael in Africa.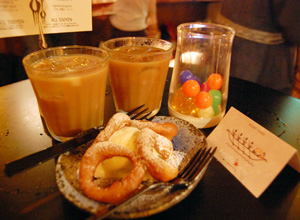 Today's special menu, Uganda donuts