7 Nov. 2010 Japan
"Ending Hunger Game" held at Koganei Daini Primary School. Students learned about hunger in this world.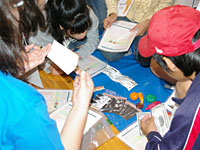 Children checking for money, food, and masks indicating literacy, which distributed in the same unequal ratio as in the real world.
On 7 October, a staff of HFW facilitated "Ending Hunger Game" at Koganei Daini Primary School, sponsored by Cadbury Japan. Ltd. The game was held as the company's corporate social responsibility project with the cooperation of HFW. Eighty-five people including 72 primary school students from the 6th grade and several employees from the company participated.
In this game, participants were divided into 12 countries or regions, and cards that represent food, money, military strength, and the like were traded for creating a hunger free world. As soon as the rules were explained, the participants exchanged opinions with their fellow "countrymen," "Removing masks (to raise literacy rates) should come first," or "No, food is more important than masks!"
As the game progressed, the countries reached various results such as one cuntry could not secure time needed to use the money they had, while the other was unable to collect enough food. The several children commented that although they tried their hardest to create an equal world, they faced various difficulties. They seemed experienced how the situations in the world are like through this game.