17 Mar. 2009 Japan
Volunteering to lose weight!? "Bowl, Lose Weight and Donate" Charity Bowling Day!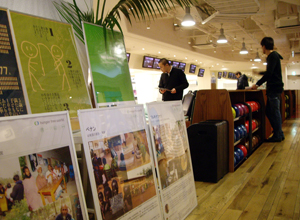 Panels introducing HFW's activities displayed at an event site
A charity bowling day, "Bowl, Lose Weight and Donate", was held in Sasazuka, Tokyo on February 14. It was sponsored by the Sasazuka Bowling Alley, where the event took place. The idea came from a group "Metabolunteer (Volunteer Weight Loser)". "Shed your fat and save the planet" was their catch phrase. It is a group of volunteers who plan and organize fund raising events where those who with metabolic syndrome and in need of weight loss can have fun doing exercise and make a donation according to how many calories they burned. ¥150 out of each participant's fee will be directed to the fund, based on the following formula: ¥1 x 3 games x 50 kilocalories burned by the participant in each game =¥150.
There were 33 in attendance, including parents and children. The special guest of the event, professional bowler Mr. Iguchi Naoyuki, threw the ceremonial first ball. From a little girl to her father, who was trying to reduce his waist size, enjoyed a game of bowling together, all for the cause of helping hungry children.
The total of ten thousand yen – ¥4950 coming from 99 games played and ¥5050 donated by the Sasazuka Bowling Alley – will be used by HFW for projects to improve the nutritional level of children in developing countries.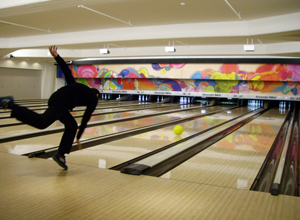 You burn about fifty kilocalories per game = ¥50 donated. Full of enthusiasm!