29 May. 2009 Japan
Participated in African Festa 2009 This event seemed to give people the opportunity to take an interest in Africa.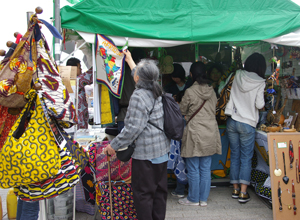 At HFW's booth, adults and children show great interest in bags made of African fabric and music instruments
"African Festa 2009" is an event that get people better understand Africa. It was held over tw days on May 16 and 17 at the Yokohama Red Brick Warehouse Event Forum and a large number of visitors came. The event was hosted by the Ministry of Foreign Affairs. HFW had a booth where we provided information about our activities in Benin, Burkina Faso and Uganda and sold handicrafts. Additionally, we conducted briefing sessions on our well construction activities in Uganda and played the "Ending Hunger Game" in other facilities in the premises. In the booth, we invited people to experience carrying water in plastic containers - the tanks actually used by children in Uganda. One of the people who happened to pass by the booth and was called to try carrying water tank said, "A tank that weighs approximately five kgs is heavy, even for an adult. Carrying one for 10 minutes would be very hard. I understood how hard life is in Uganda when I heard that in Uganda, 5-year old children carry one of these for an hour or longer each day." This event seemed to give people the opportunity to take an interest in the situation in Africa.
The 92, 640 yen that was raised through the sale of handicrafts will benefit the people of Africa by supporting their economic self-reliance.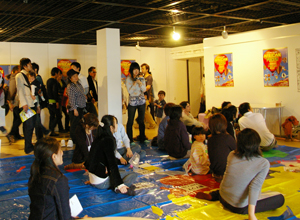 Many spectators gather to observe Ending Hunger Game which takes place on a huge 5m by10m world map