3 Aug. 2009 Japan
Recommendations concerning African aid at thea House of Councilors Investigation Committee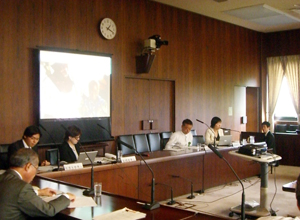 The four witnesses presenting to members of the House of Councilors
On June 24th, TOMITA Toko, HFW Programme Coordinator for Benin & Burkina Faso/ Advocacy Manager, appeared as a witness at the House of Councilors Investigation Committee concerning international problems and global warming. The Investigation Committee is a forum to which the House invites experts to offer advice in order to aid Councilors in drawing up legislative bills. In this case, under the theme of "current conditions and issues in African aid," four NGO members were invited to speak and exchange ideas with an audience of about twenty Councilors.
Ms. Tomita explained that due to the effects of global warming, it has become difficult in Burkina Faso to reliably produce agricultural crops. Given this and the fact that aid consisting of merely increasing food production yields and economic growth doesn't necessarily reach the poor, Ms. Tomita stressed the importance of reducing social inequalities through policies strengthening the fundamentals of social security, such as health services including opportunities for nutritional improvement. She also brought up issues concerning the fourth Tokyo International Conference on African Development (TICAD IV) held last year. Specifically, she underlined the importance of incorporating NGOs into the expanded partnership for African aid, one of the government pledges at the conference.
The lively exchange of ideas between witnesses making recommendations and Councilors attempting to incorporate voices from those doing work in the field lasted three hours. We hope to see the debate about African aid policy advancing in a better direction.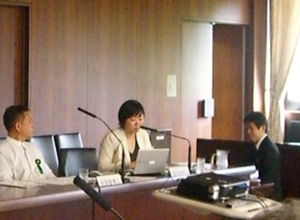 Tomita talks about the current situation in Benin and Burkina Faso using graphics