1 Sep. 2009 Japan
Co-op Event "Parents and Children Experiencing Bangladesh!" Children experienced Bangladesh food.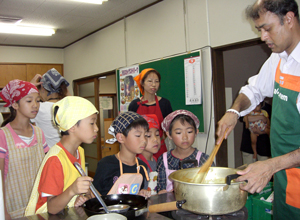 Cooking curry with Anisur
On July 24th at the Shibukawa City Community Center in Gumma Prefecture, the cooperative association Pal System Gumma held an "experience" event for parents and children. The Co-op held this event to let members know about Bangladeshi culture and the achievements of the Coop's "Point Transfer Campaign," proceeds of which are going toward the construction of an organic agriculture center in Bangladesh. The Co-op invited Mr. Anisur K. RAHMAN, a Bangladeshi citizen residing in Japan, and Mr. WATANABE Kiyotaka, HFW Executive Director.
A total of 31 people, 16 adults and 15 children, attended. The first activity was preparing chicken and egg curries. Though the children had difficulty shelling the eggs, all had fun during the cooking process. Next, there was a report on the state of hunger in Bangladesh and HFW's activities in the country. After that, the event organizers held a guessing game involving Bangladeshi letters and numbers. And, at the end, everybody ate the eagerly-awaited meal. The children learned how to eat with their right hands and ate the food with obvious pleasure, despite the food being hot to the touch.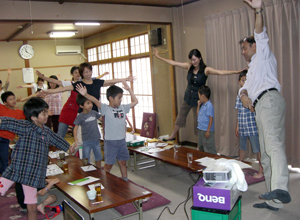 Describing the shape of the country of Bangladesh with one's body
The image of developing countries I had until now lumped together many different countries. I discovered how rich Bangladesh is with natural scenery and culinary traditions. I think the children had a vivid learning experience.
A woman in her thirties
Just reading about the campaign in the Coop's catalog didn't leave so much of an impression on me, but when I actually heard someone in person talking about it, it made me feel quite strongly. I want to share what I heard and saw today with many other people.
A woman in her thirties