26 Oct. 2009 Japan
HFW staff member spoke of Global warning at the GLOBAL FESTA. HFW make awareness raising in Japan.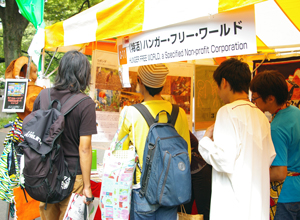 Visitors looking intently at the panels to introduce activities of HFW at the booth
Global Festa JAPAN2009 was held for two days of 3rd and 4th, October at Hibiya Park in Tokyo, and HFW ran two booths, one to introduce its activities and one to sell soft drink. This year's theme was "an environment and climate change issues". Talk show "Let's learn the connection of the climate change and problems of poverty" was held at the main stage in the park on the second day, and about 200 people came. TOMITA Toko, a staff of HFW, explained the serious effect of the drought in Burkina Faso such as the disappearance of the lake. While KAWASAKA Kyoko from Kiko Network (a Japanese NGO working for practical implementation of Kyoto Protocol and prevention of climate change) reported about the damage of houses in island nation Tuvalu because of the sea level rise. Participants recognized the seriousness of these global problems.
The total sales of the drink and the handicraft goods and donations from individuals for two days was ¥163,128. The net profit is made the best use of for supporting self-reliance of the people in the countries where HFW is active and awareness raising activities in Japan.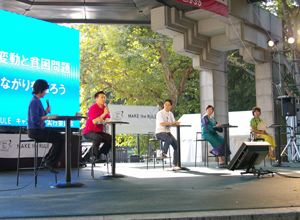 State Secretary for Foreign Affairs FUKUYAMA Tetsuro made a comment after the reports