22 Oct. 2009 Japan
World Food Day charity massage, ¥109,713 is made the best use of for supporting people in the countries.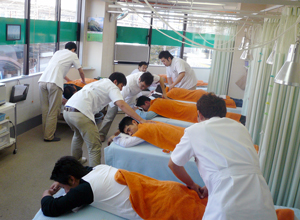 The clinic was filled with many participants
The charity massage was held at the Urawa Nakaichi-dori Moxibustion, Acupuncture, Massage and Osteopathy Clinic in Saitama on October 11. It was sponsored by Fujimi Acupuncture, Moxibustion and Osteopathy Clinic group. Volunteer staffs from Fujimi Clinic group gave a massage to participants at ¥500 for ten minutes. They massaged 60 people between 10 o'clock and 16 o'clock. After the HFW staff introduced their activities in the clinic, one participant said "I had an image that food aid was the way to solve hunger problem. But, now I've learned teaching how to grow fruits can also support their independence". The total amounts of fund-raising of this day, ¥109,713 is made the best use of for supporting self-reliance of people in the countries where HFW work and awareness raising activities in Japan.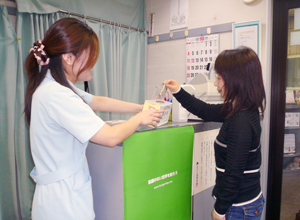 500 yen was donated for every 10 minutes of massage