5 Sep. 2008 Japan
Supporting Bangladesh by Preparing and Tasting Curry! Everyone became friends at the end of the event.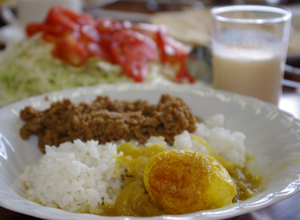 Keema (ground meat) curry and curry with boiled egg is ready!
A unique cooking workshop and curry party is held in Tokyo every month. This event has been run for more than fifteen years by a volunteer group of HFW called Nabadiganta. Two Bangladeshi who live in Japan – Khandakar Anisur Rahman and Wadud Abdul – are the driving force behind this group. In the past, proceeds from the event have helped build wells and toilets in Bangladesh.
One of these parties was held at the Jinguu-mae Municipal Hall in Shibuya, Tokyo on July 19. A total of twenty people showed up for the event: parents and children, a group of friends, office colleagues, and some people who simply love curry. In the two hour workshop, they learned to prepare an authentic Bangladeshi curry, starting with the preparation of a soup from scratch. On this night, they welcomed the challenge of making kheeme curry using mutton. Participants discovered to their amazement that more than five different spices are used. They also learned the best way to sauté onions. As the night progressed, strangers at the beginning of the workshop had all become friends by the end of the workshop.
During the curry party, they introduced themselves to each other in a relaxed atmosphere, and then enjoyed learning about Bangladesh by listening to stories told by Anisur Rahman and Wadud. Then it was time to eat; in addition to the kheeme curry, which they prepared themselves, they also had curry with fried boiled eggs, salad, and mango lassi to complete the dinner. Participants seemed to be totally content at the end of the night. ¥1,000 out of the participation fee of ¥2,500 goes to help the Bangladeshi poor become financially independent.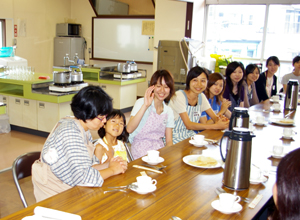 Participants interacting with each other by making curry together